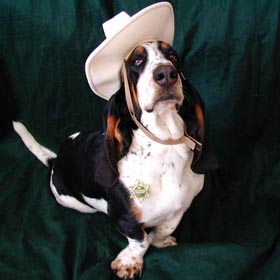 Sheriff George here! Yup, George's greeting to the Internet world for the last ten years. With the start of 2013 the new basset, Porter the Reporter, figures it's time for him to let everyone know that he has inherited Sheriff George's Territory on the Internet. Sheriff George will never be forgotten, an Edgemont icon, no doubt about it! For more information about Porter's life in Edgemont please visit his blog.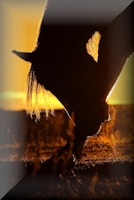 Hey! I just added Porter's Horse Photo page to the website. Check it out by clicking on the horse to the right!
Porter woofs that he's going to keep the opening words of Sheriff George on this page. Memories of importance. Below are the original words.
----------------------------------------------------------------
Sheriff George here! Glad you could stop on by. Okay, I'll admit it's all about me…if you like basset hounds then that's not all that bad,right?

I live in Edgemont, South Dakota. It took me a while to find the right home, since, you see, I'm originally from Ohio. Thank goodness the good people at Ohio Basset Rescue saved me back in 2001 (Paws to OBR!). Now I live in a great place!

Of course, I had to learn about things like cacti, goat head burrs, rattlesnakes, and that a basset hound just ain't going to catch a Pronghorn antelope. BUT, there are rabbits here…oh yeah those rascally critters are everywhere, and that's good.

Anyway, I hope you enjoy my photos.
Sheriff George's Basset Links:
Ohio Basset Rescue Web Site
Wyoming Basset Rescue Web Site
Michigan Basset Rescue Web Site
Guardian Angel Basset Rescue Web Site
Jason's Scrapbook Web Site – Jason is the famous Hush Puppy
The Daily Drool – The Ultimate Basset Web Site